{ "page": { "pageInfo": { "pageType": "Others" }, "components": [], "section": "sites:isb:en:about-isb:leadership", "pageName": "Leadership" }, "events": [], "form": [], "search": {}, "file": [], "user": [], "error": [] }
{ "salesforceUrl":"https://test.salesforce.com/servlet/servlet.WebToLead?encoding=UTF-8" , "solrUrl":"https://www.isb.edu/solr/university" , "initialRouteUrl":"https://hrm.exchange.isb.edu/ProdAEMEvents/Articles" , "siteName":"isb" , "serverDownMessage":"Internal server error, please try again after some time" }
Madan Pillutla
Dean Designate and Visiting Faculty Madan Pillutla is Professor of Organizational Behavior at the London Business School (LBS) where he also served as the Deputy Dean of Faculty, Ex-Officio Member of the Executive Committee, Faculty representative on the Governing Body, and Chair of the OB Department. Madan has an undergraduate degree in Mechanical Engineering from BITS, Pilani, post graduate degrees from XLRI, Jamshedpur and the University of Illinois and a PhD from the University of British Columbia.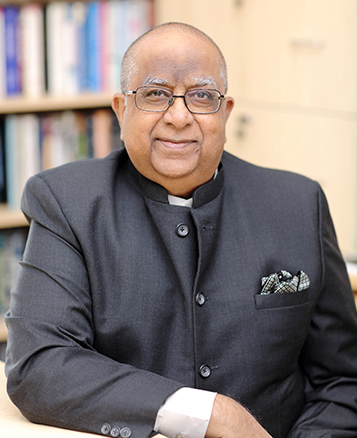 Rajendra Srivastava
Dean and Novartis Professor of Marketing Strategy and Innovation Rajendra Srivastava is the Dean of the Indian School of Business (ISB) and the Novartis Professor of Marketing strategy and Innovation. He comes with an experience of over 30 years as an academic and administrator. He has held several tenured faculty and administrative positions during his career. Before joining the ISB, he was Provost and Deputy President of Academic Affairs at Singapore Management University.
Milind Sohoni
Area Leader and Professor of Operations Management, Deputy Dean - Academic Affairs, Research Director - Punj Lloyd Institue of Infrastructure Management (PLIIM)
Chandan Chowdhury 
Practice Professor, Operation Management and Information Systems Senior Associate Dean – Career Advancement Services and PGP Modular (PGP-Max, PGP-Pro, and PGP-Mfab) Programmes; Executive Director-Munjal Institute for Global Manufacturing (MIGM) & Punj Lloyd Institute of Infrastructure Management (PLIIM)
Ram Thirumalai
Associate Professor of Finance (Practise), Senior Associate Dean – Post Graduate Programme and Young Leaders Programme,
Saumya Sindhwani
Clinical Assistant Professor-Strategy and Organisational Behaviour; Associate Dean–RCI-led Advanced Management Programmes (RCI-AMP's); Executive Director-Centre for Learning and Management Practice (CLMP)
Siddharth Singh
Associate Professor; Associate Dean-Digital Transformation, e-Learning, and Marketing; Executive Director-EFPM Programme
ISB
Governing Board
Indian School of Business is governed by the Board, comprising heads of Fortune 500 companies, noted entrepreneurs and leading academics, who have devoted time, thought, and resources towards establishing the School.
Next Generation
Leaders Board
The Next Generation Leaders Board (NGLB) comprises group of young Indian and global leaders representing the business, political, academic, government and development sectors who provide thought leadership and strategic advice to the Dean and the Executive Board to shape the future direction of the School.