{ "page": { "pageInfo": { "pageType": "Others" }, "components": [], "section": "sites:isb:en:news-events", "pageName": "News & Events" }, "events": [], "form": [], "search": {}, "file": [], "user": [], "error": [] }
{ "salesforceUrl":"https://test.salesforce.com/servlet/servlet.WebToLead?encoding=UTF-8" , "solrUrl":"https://www.isb.edu/solr/university" , "initialRouteUrl":"https://hrm.exchange.isb.edu/ProdAEMEvents/Articles" , "siteName":"isb" , "serverDownMessage":"Internal server error, please try again after some time" }
[{"value":"utm_source","text":"00N0I00000KT1fD"},{"value":"utm_medium","text":"00N0I00000KT1fI"},{"value":"campaignname","text":"00N0I00000KT1fN"},{"value":"uterm","text":"00N0I00000KT1fS"},{"value":"adgroupname","text":"00N0I00000KT1md"},{"value":"keyword","text":"00N0I00000KT1mx"},{"value":"creative","text":"00N0I00000KT1nR"},{"value":"devicemodel","text":"00N0I00000KT1ng"},{"value":"placement","text":"00N0I00000KT1nq"},{"value":"target","text":"00N0I00000KT1ot"},{"value":"device","text":"00N0I00000KT1o0"},{"value":"network","text":"00N0I00000KT1o5"},{"value":"matchtype","text":"00N0I00000KT1oA"},{"value":"gclid","text":"00N0I00000KT1oF"},{"value":"campaignname","text":"00N0I00000KT1nM"},{"value":"term","text":"00N0I00000KT1n7"}]
ISB supports APSSDC's Jagannana Summer Fellowship Program
Andhra Pradesh State Skill Development Corporation recently launched the Jagananna Summer Fellowship Program in May 2021.
Read More
Opposition political parties in India should play a more constructive role in nation-building.
As part of ISB Leadership Summit 2021, an online panel discussion on - 'Does India lack an effective opposition' was organised.
Know More
Professor Madan Pillutla is the New Dean of the Indian School of Business (ISB)
Professor Madan Pillutla formally takes over as the 6th Dean of The Indian School of Business (ISB) from Professor Rajendra Srivastava on the successful completion of his term.
Know More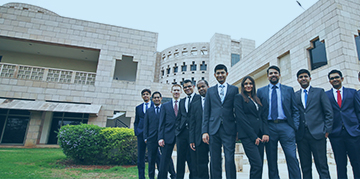 Media
Resources
View & download high resolution photographs of the campus and life at the school.
Latest
Events
PGPpro Info-Session: Know More about the Programme

Meet the ISB PGPpro Admissions Team, every Wednesday, at 7 p.m. IST

The CEO Story

Learn how ISB PGPMAX alumni are making a mark in their career after graduating from ISB PGPMAX programme