{ "page": { "pageInfo": { "pageType": "Others" }, "components": [], "section": "sites:isb:en:news-events", "pageName": "News & Events" }, "events": [], "form": [], "search": {}, "file": [], "user": [], "error": [] }
{ "salesforceUrl":"https://webto.salesforce.com/servlet/servlet.WebToLead?encoding=UTF-8" , "solrUrl":"https://www.isb.edu/solr/university" , "initialRouteUrl":"https://hrm.exchange.isb.edu/ProdAEMEvents/Articles" , "siteName":"isb" , "serverDownMessage":"Internal server error, please try again after some time" }
[{"value":"utm_source","text":"00N0I00000KT1fD"},{"value":"utm_medium","text":"00N0I00000KT1fI"},{"value":"campaignname","text":"00N0I00000KT1fN"},{"value":"uterm","text":"00N0I00000KT1fS"},{"value":"adgroupname","text":"00N0I00000KT1md"},{"value":"keyword","text":"00N0I00000KT1mx"},{"value":"creative","text":"00N0I00000KT1nR"},{"value":"devicemodel","text":"00N0I00000KT1ng"},{"value":"placement","text":"00N0I00000KT1nq"},{"value":"target","text":"00N0I00000KT1ot"},{"value":"device","text":"00N0I00000KT1o0"},{"value":"network","text":"00N0I00000KT1o5"},{"value":"matchtype","text":"00N0I00000KT1oA"},{"value":"gclid","text":"00N0I00000KT1oF"},{"value":"campaignname","text":"00N0I00000KT1nM"},{"value":"term","text":"00N0I00000KT1n7"}]
NSDC engages ISB as a Knowledge Partner for G-20 Education Working Group
The Indian School of Business (ISB) is collaborating with National Skill Development Corporation (NSDC), under the Ministry of Skill Development and Entrepreneurship (MSDE), as a knowledge partner for the G-20 Education Working Group (EWG).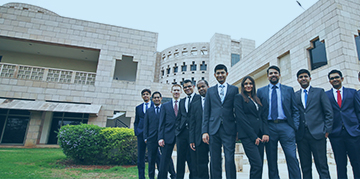 Media
Resources
View & download high resolution photographs of the campus and life at the school.
Latest
Events
PGPpro Weekly Q&A with Admissions Team

Meet the ISB PGPpro Admissions Team - Every Wednesday at 7 p.m. (IST)

ISB Graduation Day 2023

ISB will be graduating its PGP co'23, PGPMAX co'22 FPM, EFPM-Hyderabad Cohort; PGP co'23, PGPpro co'22- Mohali Cohort.