{ "page": { "pageInfo": { "pageType": "Others" }, "components": [], "section": "sites:isb:en:news-events", "pageName": "News & Events" }, "events": [], "form": [], "search": {}, "file": [], "user": [], "error": [] }
{ "salesforceUrl":"https://webto.salesforce.com/servlet/servlet.WebToLead?encoding=UTF-8" , "solrUrl":"https://www.isb.edu/solr/university" , "initialRouteUrl":"https://hrm.exchange.isb.edu/ProdAEMEvents/Articles" , "siteName":"isb" , "serverDownMessage":"Internal server error, please try again after some time" }
[{"value":"utm_source","text":"00N0I00000KT1fD"},{"value":"utm_medium","text":"00N0I00000KT1fI"},{"value":"campaignname","text":"00N0I00000KT1fN"},{"value":"uterm","text":"00N0I00000KT1fS"},{"value":"adgroupname","text":"00N0I00000KT1md"},{"value":"keyword","text":"00N0I00000KT1mx"},{"value":"creative","text":"00N0I00000KT1nR"},{"value":"devicemodel","text":"00N0I00000KT1ng"},{"value":"placement","text":"00N0I00000KT1nq"},{"value":"target","text":"00N0I00000KT1ot"},{"value":"device","text":"00N0I00000KT1o0"},{"value":"network","text":"00N0I00000KT1o5"},{"value":"matchtype","text":"00N0I00000KT1oA"},{"value":"gclid","text":"00N0I00000KT1oF"},{"value":"campaignname","text":"00N0I00000KT1nM"},{"value":"term","text":"00N0I00000KT1n7"}]
Empowering Women in Family Businesses: Indian School of Business (ISB) Hosts A Successful Roundtable
ISB's Thomas Schmidheiny Centre for Family Enterprise recently hosted a dynamic and insightful roundtable discussion on "Women in Family Business: Empowering and Enabling Women to unlock their Leadership Potential." Dean Madan Pillutla welcomed the eminent scholars, industry experts, and other participants and emphasised the importance of the topic.
SBI Chairman, Deans of ISB and IIM-B Speak At ISB Insights Forum 2023
The first-ever edition of ISB Insights Forum 2023 was held on Friday at the Mohali campus of the Indian School of Business (ISB). This forum heralds a new era of showcasing research in the country. Industry leaders, academia, bureaucrats, and thought leaders from other walks of life engaged in lively discussions in several sessions.
Kris Gopalakrishnan To Be Bestowed With The 'ISB Research Catalyst Award'
The Indian School of Business (ISB) will bestow Kris Gopalakrishnan, Chairman of Axilor Ventures, with the 'ISB Research Catalyst Award' for his pioneering role in the growth of the research ecosystem in India at the 'ISB Insights Forum' on November 24, 2023, at the Mohali campus of ISB.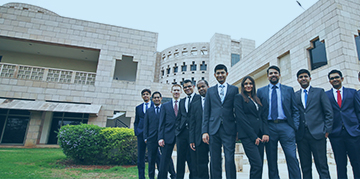 Media
Resources
View & download high resolution photographs of the campus and life at the school.
Latest
Events
ISB PGPpro Coffee Meet in Hyderabad - Dec 02, 2023

Meet the Admissions Team and Alums and gain insights about ISB's PGP in Management for Working Professionals (PGPpro) - Weekend MBA

ISB PGPpro Coffee Meet in Gurgaon - Dec 02, 2023

Meet the Admissions Team and Alums and gain insights about ISB's PGP in Management for Working Professionals (PGPpro) - Weekend MBA