{ "page": { "pageInfo": { "pageType": "content-page" }, "components": [], "section": "sites:isb:en:study-isb:post-graduate-programmes:pgp-management:learning-model:international-exchange-programme:exchange-network", "pageName": "Exchange Network" }, "events": [], "form": [], "search": {}, "file": [], "user": [], "error": [] }
{ "salesforceUrl":"https://webto.salesforce.com/servlet/servlet.WebToLead?encoding=UTF-8" , "solrUrl":"https://www.isb.edu/solr/university" , "initialRouteUrl":"https://hrm.exchange.isb.edu/ProdAEMEvents/Articles" , "siteName":"isb" , "serverDownMessage":"Internal server error, please try again after some time" }
[{"value":"utm_source","text":"00N0I00000KT1fD"},{"value":"utm_medium","text":"00N0I00000KT1fI"},{"value":"campaignname","text":"00N0I00000KT1fN"},{"value":"uterm","text":"00N0I00000KT1fS"},{"value":"adgroupname","text":"00N0I00000KT1md"},{"value":"keyword","text":"00N0I00000KT1mx"},{"value":"creative","text":"00N0I00000KT1nR"},{"value":"devicemodel","text":"00N0I00000KT1ng"},{"value":"placement","text":"00N0I00000KT1nq"},{"value":"target","text":"00N0I00000KT1ot"},{"value":"device","text":"00N0I00000KT1o0"},{"value":"network","text":"00N0I00000KT1o5"},{"value":"matchtype","text":"00N0I00000KT1oA"},{"value":"gclid","text":"00N0I00000KT1oF"},{"value":"campaignname","text":"00N0I00000KT1nM"},{"value":"term","text":"00N0I00000KT1n7"}]
The School has partnered with 50+ leading schools from the countries such as the U.S., France, South Africa, Israel, Germany, China, Pakistan, South Korea, Singapore U.K, Canada, Italy, Australia, Spain, Switzerland, Chile, Netherlands, Germany Taiwan, Poland, Thailand, Norway, Sweden, Belgium etc. Students from international schools visit the ISB campus, which adds to the diversity and peer-learning experience on campus.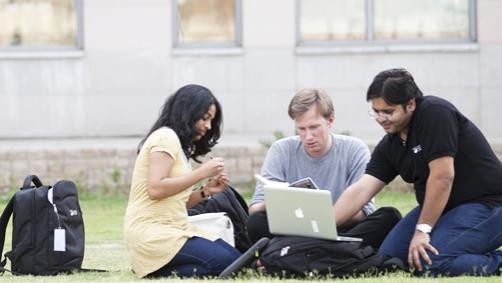 Outbound Exchange

The outbound exchange programme give ISB students an opportunity to spend time in other top B-schools worldwide. This programme helps students broaden their perspectives and form new connections. 

Inbound Exchange
ISB welcomes international exchange students to undertake two terms at the campus. This programme offers students new perspectives and a greater understanding of emerging economies.

1

Bocconi University,

MSc, Italy

2

Bond University,

Australia

3

Cheung Kong Graduate School of Business,

China

4

China Europe International Business School,

China

5

Chinese University of Hongkong,

Hong Kong

6

Coller School of Management,

Tel Aviv University, Israel

7

Darden School of Business,

University of Virginia, United States

8

EDHEC Business School,

France

9

Emory University's Goizueta Business School,

United States

10

ESADE Business School,

Spain

11

ESMT Berlin

Germany

12

Fletcher School of Law and Diplomacy, Tufts University,

United States

13

Fuqua School of Business, Duke University,

United States

14

Graduate School of Business, University of Cape Town,

South Africa

15

Guanghua School of Management, Peking University,

 China

16

HEC,

Paris, France

17

Hong Kong University of Science and Technology,

Hong Kong

18

IE Business School,

 Spain

19

IESE Business School,

Spain

20

IPADE Business School,

Mexico
21

Ivey Business School, Western University,

Canada

22

Kellogg School of Management,

Northwestern University, United States

23

Korea Advanced Institute of Science and Technology,

South Korea

24

London School of Business,

United Kingdom

25

Louvain School of Management,

Belgium

26

Melbourne Business School,

University in Melbourne, Australia

27

National Chengchi University,

Taiwan

28

National University of Singapore,

Singapore

29

NEOMA Business School,

France

30

NHH Norwegian School of Economics,

Norway

31

NUCB Business School,

Japan

32

Nijmegen School of Business,

Radbound University, Netherlands

33

Pontificia Universidad Catolica de Chile (PUC),

Chile

34

Ross School of Business,

University of Michigan, United States

35

Rotman School of Management,

University of Toronto, Canada

36

Rotterdam School of Management,

Erasmus University, Netherlands

37

Sasin School of Management,

Thailand

38

Schulich School of Business, York University,

Canada

39

SDA Bocconi School of Management,

Bocconi University, Italy

40

SGH Warsaw School of Economics,

Poland
41

Skema Business School,

France

42

Smith School of Business, Queens University,

Canada

43

Stern School of Business, New York University,

United States

44

Stockholm School of Business,

Sweden

45

Suleman Dawood School of Business, Lahore University of Management Sciences,

Pakistan

46

Sung Kyun Kwan Business School, Sungkyunkwan University

South Korea

47

Tsinghua SEM, Tsinghua University,

China

48

Tuck School of Business at Dartmouth,

United States

49

UNC Kenan Flagler Business School, University of North Carolina,

United States

50

University of St Gallen,

Switzerland

51

Warwick Business School, University of Warwick,

United Kingdom

52

Wharton School, University of Pennsylvania,

United States

53

WHU Otto Beisheim School of Management,

Germany

54

WITS Business School, University of Witwatersrand,

South Africa

55

Yonsei Business School,

Korea

56

Zagreb School of Economics and Management

Croatia