{ "page": { "pageInfo": { "pageType": "Others" }, "components": [], "section": "sites:isb:en:business-and-policy-dialogue", "pageName": "Business and Policy Dialogue | Indian School of Business (ISB)" }, "events": [], "form": [], "search": {}, "file": [], "user": [], "error": [] }
{ "salesforceUrl":"https://webto.salesforce.com/servlet/servlet.WebToLead?encoding=UTF-8" , "solrUrl":"https://www.isb.edu/solr/university" , "initialRouteUrl":"https://hrm.exchange.isb.edu/ProdAEMEvents/Articles" , "siteName":"isb" , "serverDownMessage":"Internal server error, please try again after some time" }
[{"value":"utm_source","text":"00N0I00000KT1fD"},{"value":"utm_medium","text":"00N0I00000KT1fI"},{"value":"campaignname","text":"00N0I00000KT1fN"},{"value":"uterm","text":"00N0I00000KT1fS"},{"value":"adgroupname","text":"00N0I00000KT1md"},{"value":"keyword","text":"00N0I00000KT1mx"},{"value":"creative","text":"00N0I00000KT1nR"},{"value":"devicemodel","text":"00N0I00000KT1ng"},{"value":"placement","text":"00N0I00000KT1nq"},{"value":"target","text":"00N0I00000KT1ot"},{"value":"device","text":"00N0I00000KT1o0"},{"value":"network","text":"00N0I00000KT1o5"},{"value":"matchtype","text":"00N0I00000KT1oA"},{"value":"gclid","text":"00N0I00000KT1oF"},{"value":"campaignname","text":"00N0I00000KT1nM"},{"value":"term","text":"00N0I00000KT1n7"}]
Overview
Business and Policy Dialogue is an initiative, aimed to bring together the policymakers, bureaucrats, academicians, and industry at a common platform to share the perspective on the topics that are of great importance. 
Speakers
Jayesh Ranjan, IAS
Principal Secretary, Industries & Commerce, IT, E&C
Government of Telangana
Suresh Kumar, IAS
Chief Principal Secretary to
Chief Minister, Punjab
Karan Avtar Singh, IAS
Chairman
Punjab Water Regulation and Development Authority
Government of Punjab
Kunal Satyarthi, IFS
Principal, Central Academy for State Forest Service (CASFOS), Ministry of Environment, Forest and Climate Change, Government of India
Miriam Jackson
Programme Co-ordinator, Cryosphere Initiative, River Basins and Cryosphere, International Centre for Integrated Mountain Development (ICIMOD) 
David M. Hannah
Professor of Hydrology and UNESCO Chair in Water Science, University of Birmingham, UK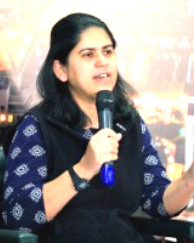 Ulka Kelkar
Director, Climate program
World Resources Institute India
Registration
To get an update about the next Business and Policy Dialogue.

Click on the link below.